Tuesday, August 27, 2019 @ 7 pm | $10 online, $12 at the door | doors open at 6 pm
Tickets
Advance tickets:
Pay via the PayPal button below, or contact Rocki Eriksen:
text only (do not call): 925-783-2913
[email protected]
Cost:
$10 ($12 at the door)
Venue:
The Chicken Coop Stage,
Feather River Hot Springs
29186 Highway 70
Twain, CA 85984
Directions here.

Michelle Mangione
With her band, cajon (box drum), drums and acoustic guitar, songwriter Michelle Mangione challenges the world of live music to rise to a very intimate and honest level. She is frequently seen playing guitar and "feet drums" at the same time, a skill she learned out of necessity. "I couldn't afford to pay a drummer, and needed the percussive edge in our acoustic shows, so I devised a pedal driven drum set that I could play with my feet", says Mangione.
A familiar face in the Los Angeles music scene, Mangione first polished her chops playing drums for such greats as saxophonist Buddy Collette and guitarist Robben Ford. An accomplished drummer by age 16, Mangione taught herself to play guitar, bass and piano while growing up in Los Angeles. She studied under legendary jazz drummer Kay Carlson before going on to graduate at a young age from Percussion Institute of Technology in Hollywood. She later taught at PIT and then became a successful road musician.
Most of her recordings are created primarily by Mangione in her home "bedroom" studio—from writing to arrangements, to production to performances. In addition to most of the acoustic and electric guitar work on the records, she plays drums, piano and percussion. "Financial constraints" translates to "get as creative as you can with what you have" for the artist, who was once seen putting on a pair of heavy boots in the bathroom to get that specific sound "only these boots can make" for the recording of the song "Sticky Fingers." Michelle also assembles teams of some of her favorite musicians to play on the recordings, including Greg Leisz (Beck, Joni Mitchell, Robert Plant & Alison Kraus), Duncan Cameron (Amazing Rhythm Aces, Little Feat, Sawyer Brown).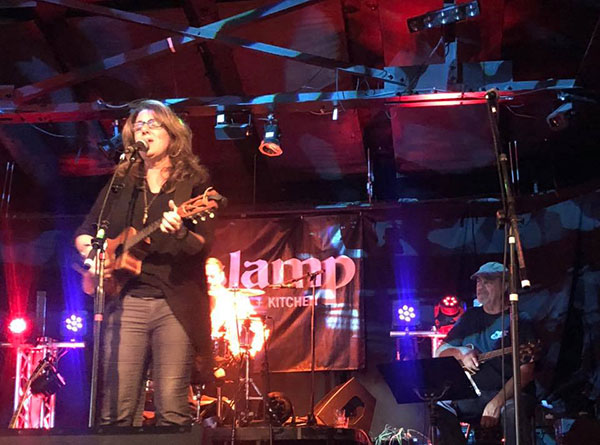 "What is a Saint"
"Rock & Roll Faves"