The hot springs will continue to be available by reservation from 7am-9pm. Please do not ask for me to list availability. TEXT a request with Your name, how many persons, the date and time you would hope to come. Then I will get back to you with an available two hour time. There is room to comfortably accommodate six people.
IMPORTANT INFORMATION
For the health and safety of all, these are the current hot springs requirements:
Day use of the Springs is $10 per person for members of Friends of Feather River Hot Springs and $20 per person for nonmembers. This is for a two-hour soak. 
24-hour advance (48-hour advance for weekends) is required to request a spot (if available) at the Springs: TEXT (do not call) 925-783-2913.
No drop-ins allowed.
Thanks,
Rocki
---
We have one of the few camping sites in the nation that has a natural hot springs in close proximity to a beautiful river.
The setting is quite rustic — these are a natural hot springs, and nothing is added to the waters. Sulfur is naturally occurring and the temperature of the two tubs range from 99 to 104 degrees.
Use of the hot springs
Use of the hot springs is included in the fee for campsites or cabins.
Members of Friends of the Feather River Hot Springs pay $10 per person for a 2-hour soak in the springs (Learn about membership on our Friends of the Feather River Hot Springs page)
Non-members fee for day use of hot springs is $20 per person for a 2-hour soak.
For hot springs reservations: you must TEXT (do not call) 925-783-2913 at least 24 hours before your expected arrival time to check availability and make a reservation. On weekends, reservations must be confirmed 48 hours in advance. Rocki will try to get back to you ASAP. (Rocki's phone is not reliable and cannot get voicemail. Thank you.)
Submit name, date, time and how many persons to check availability. This does not insure exclusive use of the tubs, there can be up to six people at one time.
If texting is not available, you may email Rocki (

[email protected]

) to make a reservation.
No drop-ins allowed
Please note: A seasonal, rocky footpath leads to a natural hot springs located on the river. There is walking access only. Please bring headlamps and/or flashlights (Flammable lamps, torches, candles, campfires, BBQs, etc. are NOT allowed).
Important: Dogs are NOT allowed down at the Hot Springs, no exceptions. Glass containers are not allowed at Springs, no smoking, no open flames, no diaper age children in tubs. No more than eight people at tubs at a time unless ok'd by proprietor.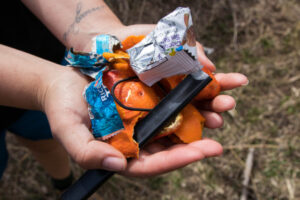 Orange peels can take as long as two years to decompose. There is a common misconception that "natural trash" such as orange peels, banana peels, apple cores, and shells from nuts and seeds are okay to leave behind on the trail, in campgrounds, or in other outdoor spaces. While these things are natural, they are not natural to the places they are being left. These types of trash attract wildlife to areas with human activity, affecting their health and habits.
Come on people, natural?, think about it…and look around before you leave, if you'd like to return,  thank you.
Hours
Winter – 7 am till dark
Spring-Fall – 6 am to 9 pm